Finance in an Instance.
Use the easiest, fastest and most relaxing way of payroll accounting: organise and manage payrolls, registrations and deregistrations, changes and much more simply online. And always keep an overview with the latest evaluations. Directly in your TPA Connect app. Around the clock. Wherever you are.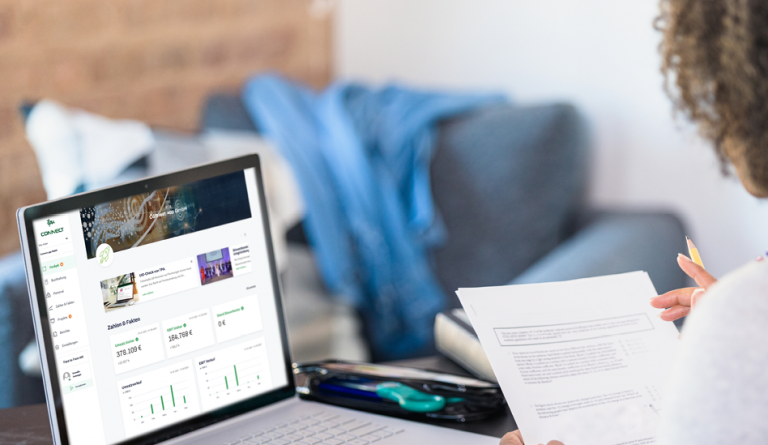 Simple. Intuitive. Secure.
Payroll accounting has never been so convenient.
Security: Protected storage of sensitive data.
No more flood of emails!
24/7 access to the 360° cockpit.
Automatic notifications to remind you of deadlines.
Preview: This is how the simplest, fastest and most relaxing way of payroll accounting works!
Curious?
Simply try out the features of the TPA Connect App and see for yourself how easy payroll accounting will be in the future.
Request Demo here
Contact our digital experts:
Payroll FAQs:
Uncomplicated payroll accounting from the first employee! Please contact our TPA Connect experts, they will give you details for your company:
You can see the advantages in the video!
Registering and deregistering staff is that easy!
The Connect app allows you to get an overview of your staff at any time. From the "Personnel" module, you can access a list of your employees at the click of a mouse. You can view their data and easily notify TPA of any changes.
To deregister an employee, simply select him or her and tell TPA why he or she is no longer employed by you.
It is just as easy to register a new employee. Using online forms, you can provide the most important information about your new employee so that your TPA advisor can complete the necessary registration with the health insurance fund.
You can provide essential documents on the new employee to TPA at the time of registration. This includes documents such as employment contract, proof of citizenship, identity card or registration form.
By using this function, the uploaded documents are automatically linked to the employee's personnel file and can then be viewed at any time in the Connect app.
As soon as you have completed a registration, deregistration or data change of an employee and transferred it to your TPA advisor by clicking on the button "Transmit to TPA", you will see the respective order in the tab "In process" – until your TPA advisor has reliably carried out the necessary legal steps and your request has thus been successfully processed.
If any information is unclear, your advisor will contact you.
You have around-the-clock access to your TPA Cockpit and can deregister employees there at any time.
You determine who else has access to your TPA Connect Cockpit.
The Super Admin of your company can authorise employees and colleagues to access the company's data in the TPA Connect app themselves. The in-depth authorisation structure of the TPA Connect app offers a wide range of configuration options for this purpose, enabling you to map the company's individual personnel structure according to your ideas.
If you wish, your TPA consultant will be happy to prepare the user accounts for the employees and define the authorisations. The Super Admin then only has to log into the TPA Connect app once to accept the proposal prepared by your TPA advisor.
This is how you assign permissions
Files can be uploaded at any time.  It is also possible on the move, for example to be able to photograph an invoice directly while on the move and provide it as a travel expense receipt.
During the upload process, you can either select files from directories or simply drag and drop your digital documents. Of course, it is possible to select several files at once.
Transmit personnel documents
As soon as the documents you have submitted have been processed or your monthly payroll has been completed, you will receive a notification by e-mail reminding you that these documents are available to you with immediate effect.
You can view these reports at any time by simply opening the TPA Connect app and switching to the desired period and company code. Do you have special requests regarding the payroll reports? Contact our TPA Connect experts!
Watch the video: How to get up-to-date reports & evaluations
Electronic payslips are provided in the TPA Connect app for you and – if desired – also for your employees!
Finally, no more tedious filing of slips and searching for them later – from now on you will find the future payslips of all employees in digital form and password-protected in the TPA Connect App neatly and securely in one place. Of course, downloading and printing is also possible if desired.
TPA Connect links you 24/7 with facts, figures and data about your business.
Our digital face-to-face business platform facilitates the exchange of information with your personal TPA advisor. So you always have the overview with just one click.
Alway app to date!